Riding with RooRound the World with a Dog
When Tracy set off to ride her motorcycle around the world, she wasn't expecting to pick up a little pillion along the way! Here's Tracy and Roo's inspiring story…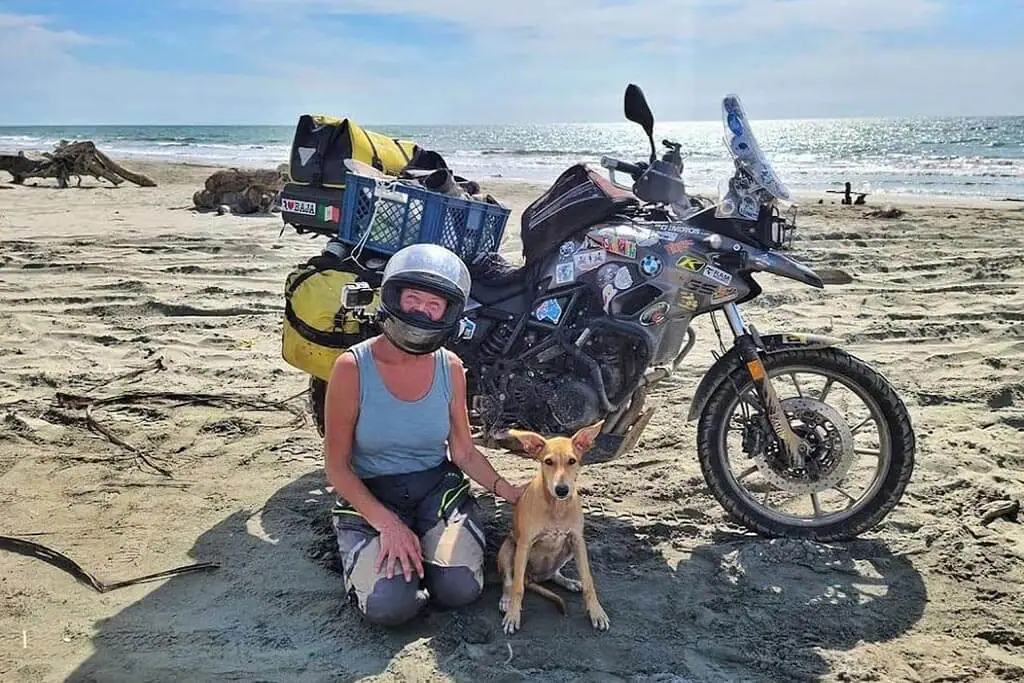 ________________________________________________________________________________________________________________
October 8, 2023
By Tracy Charles
Riding round the world with her dog, Roo
________________________________________________________________________________________________________________
Round the world…
In 2009, I spent two years nursing my partner through terminal brain cancer. He was only 46 when he passed. It was at that moment I decided to start ticking things off my bucket list sooner rather than later.
Ironically, riding a motorcycle wasn't even on that list, but when a good friend suggested we go for our licences, I thought 'why not?' So we did, and I was hooked! I fell in love with my BMW 700 GS and riding. I even joined an organized motorcycle tour of Peru, but I found the off-road sections, steep switchbacks and hairpins terrifying so I booked onto loads of off-road courses when I got home. I started following round the world riders online and kept thinking to myself how wonderful it would be to do that too. But retirement was a long way off and I had a daughter in university.
But all it takes is one minute to change everything… and that happened to me. The stars aligned, there was a restructure at the company I worked for and I suddenly found myself retired at the age of 53.
I realized that what I had been dreaming about was actually within reach, but not without my daughter being onboard. Turns out she was more than onboard and to this day is my biggest fan and source of confidence and encouragement. Together, we sold everything I owned and got me ready for the road ahead. The day before I left Canada to begin my round the world dream, we shared a lot of love, hugs and tears. And even more hugs and tears the next morning when it was finally time to leave. I was so nervous I stalled the bike twice and accidentally laid on the horn at a stop sign… but finally, I was on my way.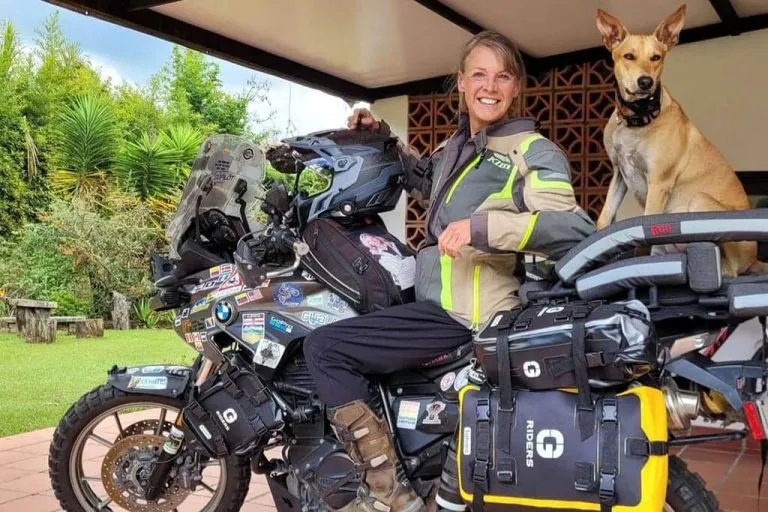 Going alone
I wasn't afraid of being a woman riding alone through what some people perceive as the most dangerous countries in the world. What really scared me was all the well-meaning advice friends and family gave before I left: drug cartels, gangs, going off the main roads, don't go out by yourself at night etc… that's what terrified me.
But once I crossed into Mexico it didn't take long to realize how wrong their perceptions of the world are. Not that they're 100% wrong, but I quickly saw that by not listening to the news and just being open to new places, people and cultures, the world is actually a wonderful place and it's our fear that keeps us from experiencing it.
I found that as a solo female rider, the locals just want to take care of me, feed me, offer shelter, directions and places to stay in the next town. They were genuinely happy to see a solo woman riding through their beautiful country that they're so proud of, despite it's bad reputation.
Covid and a chance encounter
I made it through Mexico and found myself and my motorcycle on a sailboat bound for Colombia. I wasn't there long before Covid hit and I was stuck in lockdown. I wasn't able to leave the farm I was staying at and had to rely on the hostel owner to do my banking and shopping. After six weeks, I managed to get a seat on the last repatriation flight to Canada and then had another two weeks of quarantine before I could be reunited with my family.
It wasn't long before Canada started talking about locking down again, but Colombia had re-opened its borders and I would be free to travel around the country, so I quickly packed my bags and got straight back out there! I spent over a year in Colombia and after some time on the Caribbean coast, I found myself with the cutest little pillion…
Meeting Roo
I loved the Caribbean coast, riding between little towns, scuba diving, enjoying the sea, fresh food and siestas in hammocks on beaches. At one point, I found myself in a little village called Rincon. It wasn't easy to get there as it had been raining a lot and the 11km ride to the town was extremely muddy, but I'm glad I did.
Imagine swinging in a hammock on the beach, reading your book and enjoying a glass of wine when suddenly a small furry bundle decides that she'd like to join you and jumps in.
That was my first encounter with Roo. From that day on, she would just hang out with me, sleep on my backpack, steal my chair if I went for a swim and walk with me through the village. She even snuck into the locked hostel and figured out what room I was in on the second floor! She would sit on the bike when I worked on it and never showed any fear.
I knew she was coming with me – especially after seeing how the locals treated her, it was horrific. The plan was to get her fixed, vaccinated and then find a good home for her. But by the time that happened, I was head over heels in love with her.
The hostel workers helped me find a large milk crate and feedbag. They cut holes into the bag with their machetes and strung it to the milkcrate with a hole just big enough for Roo's head. And she has ridden with me ever since.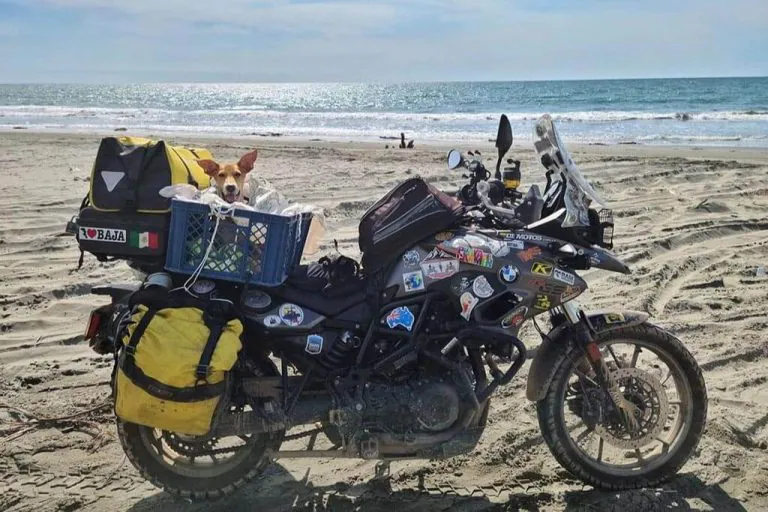 Motorcycle modifications
The milk crate worked for another six months or so, but as Roo kept growing, I realized we needed something better. I tried to make my own, although it never felt safe enough. I reached out to an American company, Go Ruffly, and ordered one of their carriers. It was our saviour and Roo loved it. There were times when she wouldn't respond to my calls and I couldn't find her because she was asleep in her new carrier. That's how much she loves it!
Challenges of motorcycling with a dog
But there have been a lot of challenges. So many it's hard to know where to start…
In several South American countries, they simply don't like dogs. I have had people throw rocks at her, hit her with walking sticks and even kick her while she's walking with me! It's extremely frustrating and I can't help but lose my temper when this happens.
Other dogs are a big worry too. Packs of dogs want to attack, not just my bike, but her all the time. Roo was once attacked so badly by a group of five dogs in Chile that she needed stitches.
Another worry is poison. Roo almost died on me when she ingested poison. I thought my heart was going to break. She was unconscious when we got her to the emergency vet and I was sobbing like a baby.
But my biggest worry is small children. They were the meanest to Roo. I worked very hard with her to get along with kids and she was doing so well – until we hit northern Peru. The children there were awful and we quicky found ourselves back at square one. The last thing I want is for her to run and bark at a child and the parent want to hurt her.
There are many challenges riding with a dog, but the benefits definitely outweigh them.
Crossing borders
As we cross borders in South America, Roo needs her vaccines and flea, tick and parasite pills up to date. We have a routine: papers need to be done 10 days or less before crossing the border, we find a vet, have them give her the all clear, then find the country's export company and get the final paperwork to cross into the next country.
There are no quarantine laws here, but that will definitely change when we travel to other continents. Australia being the strictest on this. I have travelled to islands and even back to Canada and left her in very good doggy daycares. This means I haven't needed to change my travel routes, but now I need to start thinking ahead.
Pre-Roo, I was able to stop and visit museums and attractions along the side of the road for example. Now it takes a bit more planning than I'm used to. I try and find a town that's central to everywhere I want to go and everything I want to see. Sometimes Roo can come and other times she can't. I use AirBnB a lot now. It gives me peace of mind knowing I'm in a pet friendly place and I usually try to pick one with a fenced-in yard. Roo feels more comfortable staying there while I go visit parks and places she isn't allowed to.
Life on the road with a dog
Roo is a great pillion! We worked out a routine together. When she howls it means she needs to go to the bathroom. If she rubs her head on my back it means her goggles are dirty and she can't see. When she starts to punch me in the back with her paws, she's tired and needs a break.
I always carry dry dog kibble for her because it's super easy to find and four litres of drinking water. I also try to carry a pack or two of moist food to ensure she eats her whole meal at once. And she's often treated to scrambled eggs, raw beef and chicken from the butcher.
I definitely make more stops now, and it's actually something I'm very grateful for! Although I learned to slow down, Roo makes me slow down just that much more and I love it.
We have had a few days that haven't gone so well. We had a bad crash on Ruta 40 – the famous deep gravel road in Argentina. I made the decision to turn around and rethink my route. She was safe in her carrier when I got off the ground to check. The next day when we headed out on a different route, she wasn't scared at all. She just hopped straight back up on the bike ready to go wherever I was going just so long as she could be with me. Loyalty, love and trust – such a beautiful thing.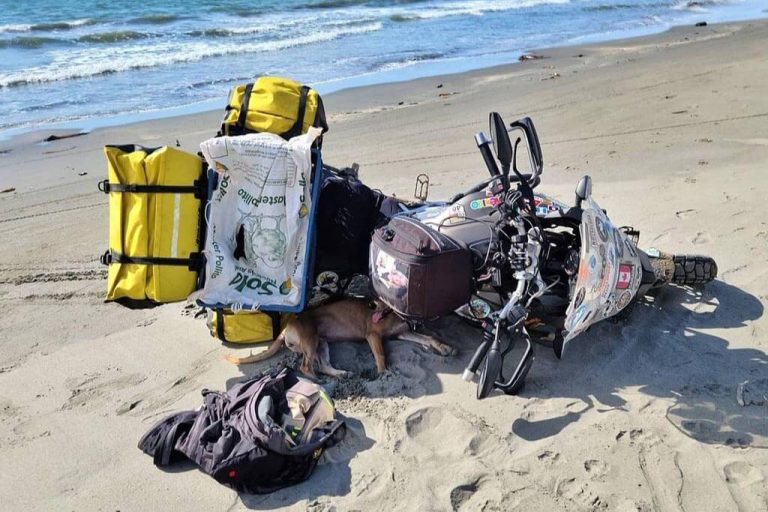 Roo and Tracy who?
I adopted the phrase 'Roo and Tracy Who?' Once, people would come over to talk to me. But now they only come to see Roo, pet her and take photos. I am simply her chauffeur.
Riding with Roo means a day of never-ending smiles and greetings. I have ridden through so many poor little towns where the people are just sitting around on benches or stools and looking miserable. It takes a moment, but once we start riding past, the transformation on their faces into an incredible smile and the laughter and shouts I can hear is beautiful! Sounds corny, eh? But it is just that.
She makes border crossings so much easier and so much more fun. She makes everyone smile, which in turn makes me smile. She makes me feel safer, she makes me slow down and enjoy more. She makes it so that I am no longer talking to myself and looking crazy. We count on each other all day every day as we ride the world together. We are truly a team.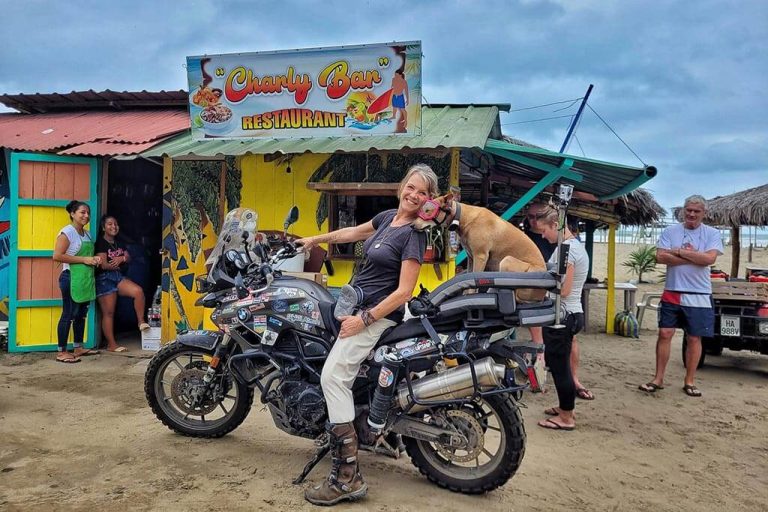 About the author
Tracy Charles
I'm Tracy, born and raised in Canada. I sold everything I own to try and ride my motorcycle around the world. Now, everything I own in this world is on my bike.
I left Canada in September 2019, rode through the USA, Mexico, Central America and picked up a little pillion on the way in Colombia, 2021. Since then I rode through northern Chile, Argentina and found myself in Uruguay taking a few months off.
I honestly thought I'd almost be finished with my travels by now, but as soon as I hit the road, I quickly learned to slow down and enjoy the lifestyle.
I plan to head to Ushuaia after this mind and body rest period and then who knows… Africa? Europe? Asia? There's a whole big world out there just waiting for us!
Roo
Roo: short for Kangaroo. She is currently 2.5 years old (I made her birthday January 31st). Roo was rescued from a beach along the Caribbean coast in Colombia. No idea what type of a dog she actually is, but for travelling purposes, she's considered a short haired terrier as it's a breed widely accepted all over the world.