Round the World Against the Odds
This is a story of courage, determination, and inspiration. Nick and Bec Simmonds decided they were no longer prepared to wait for 'one day' and left home to ride round the world – against the odds.
________________________________________________________________________________________________________________
April 13, 2023
By Nick and Bec Simmonds
Round the world motorcycle travellers
________________________________________________________________________________________________________________
Crossroads
You will always find a thousand reasons why you shouldn't do something, why you need to stay in your lane and play it safe – don't stand out and don't take risks. You just need to listen to that one reason why you should, blow caution to the wind and go for it.
We have both always wanted to see the world. We met 35 years ago at an agricultural college in the UK and talked about travelling, but one of us was afraid of pretty much everything. So, we played it safe and said we'd do it 'one day'. In the meantime, we got married, had two daughters and found jobs – the normal stuff.
Twelve years later and we were still doing the same thing and literally going nowhere fast, professionally, financially and even relationship wise. We had reached one of those desperation crossroads where you're not sure which way to go.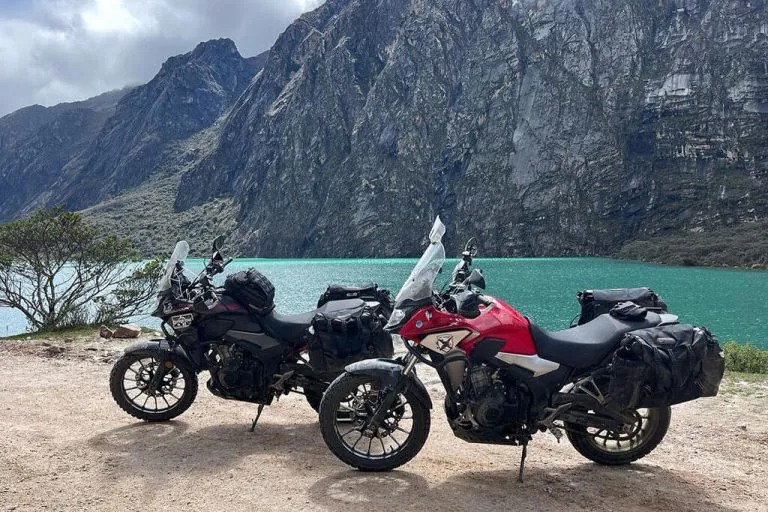 The bucket list
By chance we spotted a job advert for farm workers in New Zealand and asked if they would accept a family. Five weeks later we had sold or given away all our worldly possessions and were on a plane with nothing more than each other, a hope that it would work out and a $15,000 debt.
New Zealand changed us. We turned can't into can, worked every waking hour and went from workers to buying our own farm in just 14 years.
By 2018 we were 55 and 50 and still working crazy hours with zero work-life balance. We can't remember the exact trigger, it may have been a song, but we decided to put in context a very generous life expectancy of 100 years and write bucket lists. It shocked us how little 'doing' time we had left.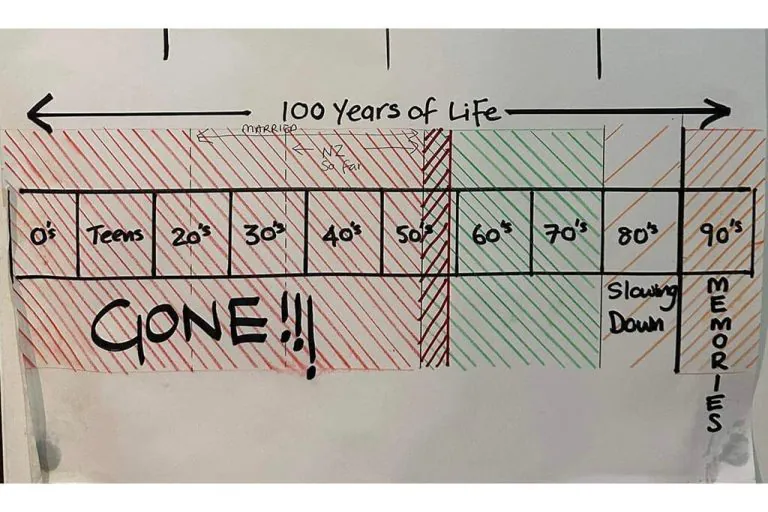 Tick tock
It also struck us that in our current physical and mental states, the bucket lists would never be completed. Nick was a workaholic (and more …read on) and Bec was incredibly overweight at 165kgs. You see, she was the one who had always been afraid, turned to food to quell the fears and hadn't stopped eating for 30 odd years.
We were at one of those desperation crossroads again and action was needed.
To start the ball rolling, Bec did a lot of mind work, had a gastric bypass and went on to lose 100kgs. We started mountain biking together and then motorcycling two-up and then we were riding separate motorcycles. Things were looking up.
That was until a series of unfortunate events unfolded. Nick's dad died of a heart condition that had compromised his lifestyle for 20+ years, and then his mum also passed away. Covid was up next. Then Nick and our two daughters found out they had the same genetic fault that caused his dad's death… but they felt fine. In January 2020, our marathon running 26-year-old had a catastrophic aortic dissection and stroke and almost died.
After her recovery, Nick and our other daughter had extensive tests and it was discovered Nick's aorta was also enlarged, plus he had a 65% restriction in his L.A.D but a stent was not possible because of dissection risk, so he was looking down the barrel of a heart bypass within two years.
Tick tock tick tock
A quick note, our humour gets a little warped from this point on. It's a coping mechanism crossed with a life is too short (literally) mentality. Please just roll with us.
We were at one of those desperation crossroads …again. Sit and wait or just go for it? Our 100-year life map was suddenly very optimistic bordering on whimsical.
There were plenty of reasons to not go. Nick's heart was a big one, but the cardiologist didn't say not to do it. The business? We found outstanding managers. Home and pet? House sitters. Family? Both daughters had their own lives and staying to watch their every move wasn't going to protect them from this damned gene.
Sod sitting and waiting. Now was the time to listen to that one reason why we should (lack of immortality) and just bloody well go for it. We're outta here!
The first step was buying the Adventure Riding Guide book. Step one in the book said we'd need at least six months to plan. Nope. Not going to happen. We would just have to make it up as we go.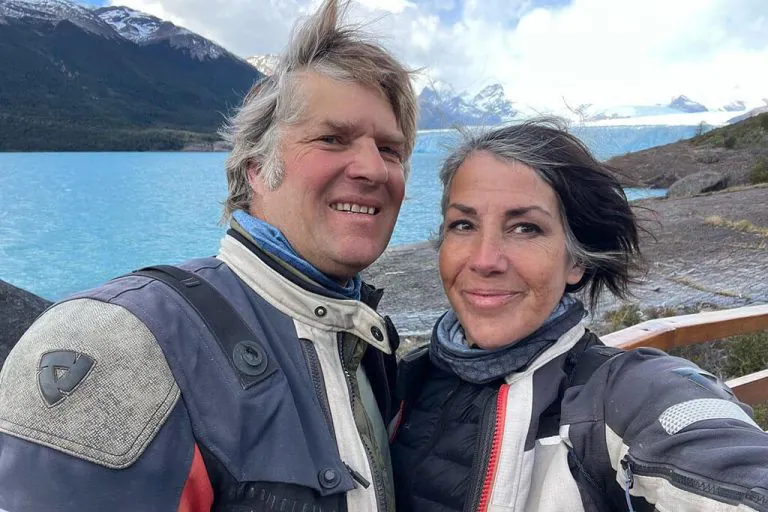 Where do we even start?
We speak no other languages and have little to no off-road experience, so that was a lot of countries and continents out. Australia? Too close. Europe? Too convenient. North America? Too cliched. But we had read about a ghost town in Montana that you could walk around and that would be cool. And Canada had bears and moose. And it joined onto Central and South America, so if we were still talking and Nick was still alive and we still felt up for an adventure, we could continue down. Quick decision made, North America it was then!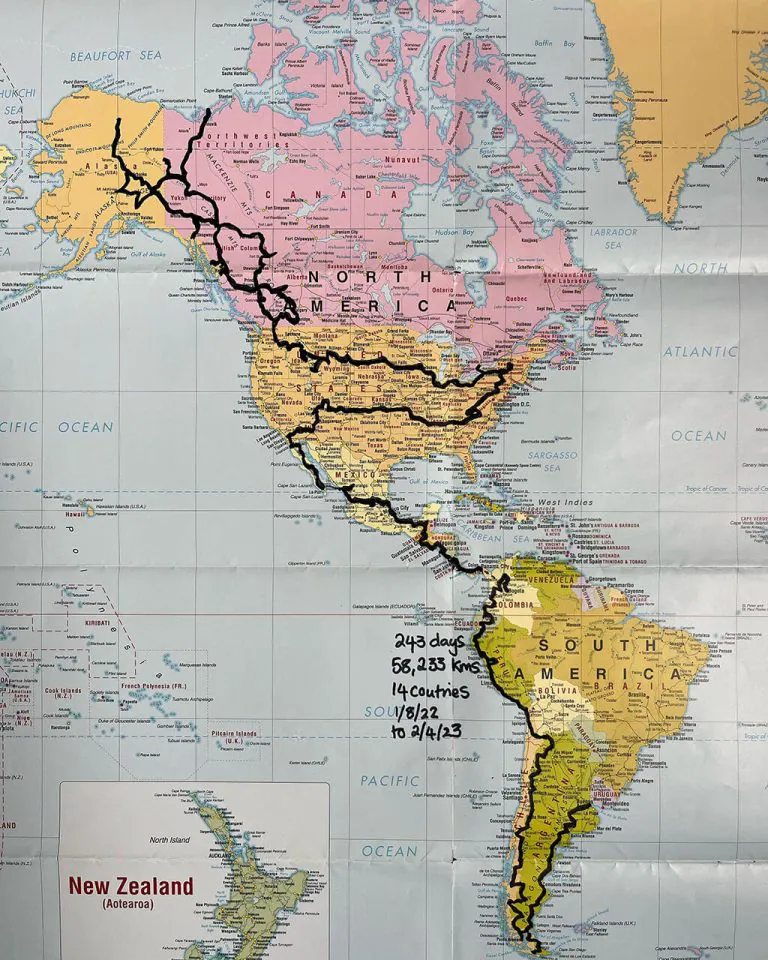 Bikes
Because of the high risk of Nick having a heart attack or dissecting (he is blessed with a double whammy), we decided two bikes was the safer option regarding weight distribution and strain as well as Nick keeling over mid ride and avoiding both of us careering off the road.
But what bikes? We needed lightweight machines that would be comfortable long-distance and capable on the fun off-road sections. The Honda CB500X ticked those boxes. Plus, we can get up to 500kms on 17.7 litres, it's known for being reliable, they are simple bikes without a lot of electronic gadgetry and they're familiar. Nick has been riding motorcycles for 40+ years, but Bec has only ridden for two years but was already used to riding this bike.
This was the tail-end of pandemic times and shipping was expensive and unreliable due to massive backlogs. Carting our bikes halfway around the world wasn't economically viable. We met a couple by a very happy coincidence who had done an overseas trip on a motorcycle and bought a bike in Canada because it is one of the few places in the world where once purchased, the bike and plate will always be registered in your name.
They supplied us with the dealership they had worked with in Kelowna and we ordered and paid the deposit for a couple of new CB500Xs over the phone from New Zealand.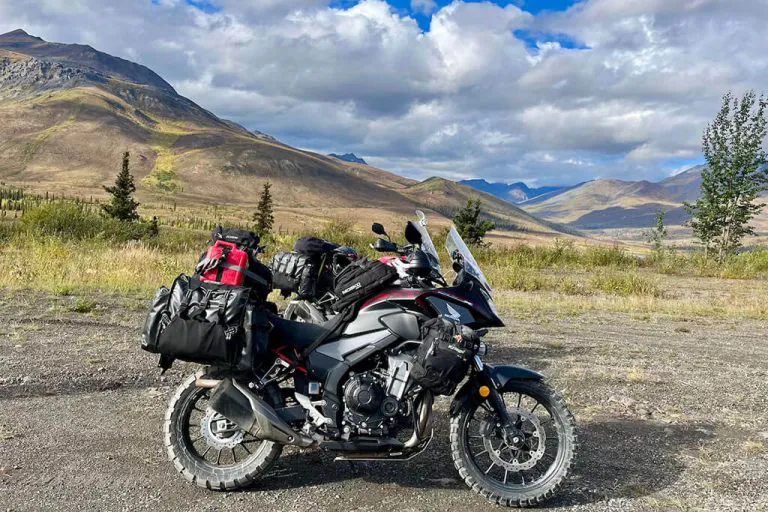 Gear
What do we need to take with us on a round the world trip? What do you need to survive for a few months or a few years on the road? And how the bloody hell do we fit all of that onto two motorcycles?
This is when we came across Andy and Alissa's Mad or Nomad website. It was truly like falling down a rabbit hole and the more we read, the more we realised we didn't know. But time was ticking…
We needed to hustle and make some quick decisions. So we used their packing list guide as a template and gave the credit card a severe bashing.
Experience
We needed more experience off-road and to do a dry run with our equipment and camping gear for prolonged periods. So we took a three week trip to the south island of New Zealand in autumn and rode as many of the easy to medium off-road trails as we could find.
It was a true baptism of fire for Bec (the afraid one). One of the trails called The Nevis has over 20 water crossings. I don't think Bec breathed for the first three of those. On one particularly deep one, she met a group of orange machines coming the other way, but couldn't stop mid-crossing. Using the mantra 'if in doubt, power out' she gunned it and took off much to the horror of the guys coming the other way. Nick still laughs out loud remembering that moment.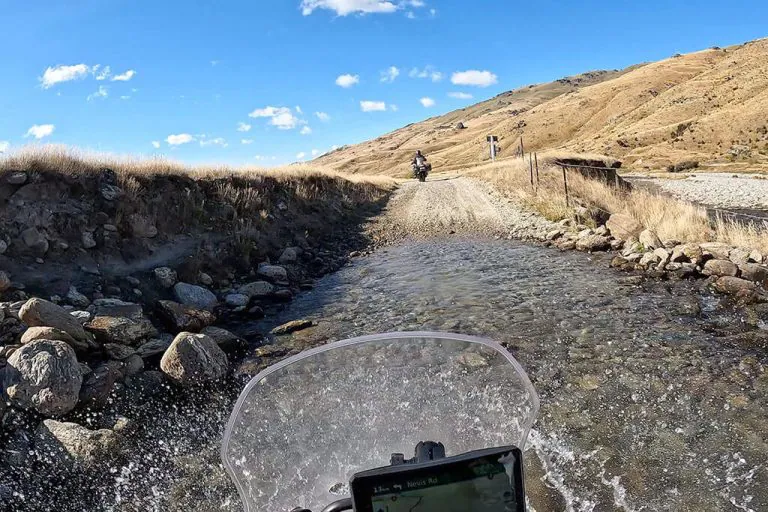 To the universe
Okay so we have most of it sorted now and just need to decide when to go. June looks good as it is starting to get warm and it gives us plenty of time to explore a lot of the north before it gets cold again. Motorcycle insurance was the only thing left on our list, but we'd just sort that in Canada as we only needed to show passports and motorcycle licences. Oh. Bec only has her provisional licence and can't sit her full exam until late July. July it is then! We flew to Vancouver four days after applying for the full licence. It was late in the season but we'd make it work.
So off we head into the complete unknown – winging it. There are so many things that can go wrong, and so many more that can go right.
To quote the physicist Brian Cox: "We are temporary structures that can think and feel and explore, and then those structures will decay away again at some point, and in the very far future there will be no structures left. So, there we are, we exist in this little window when we can observe this magnificent universe."
To be continued! We are off to explore what we can see of our magnificent universe…